News and Events
Shetland Cattle Holding Their Own
Shetlands have won two Supreme Cattle Championships (inter-breed) this year with Ennisfirth Elsa at Voe Show and Geldron Vynd at Walls Show.  There were also inter-breed wins for Trondra Swarta, being Best Heifer of any breed or cross at Walls, and for Tabor Code Red, being Best Dairy Cow - in calf- at Fishguard Show.
It's good to know that our Shetlands are more than holding their own against other breeds.
---
Walls Show
Full results from Voe, Cunningsburgh & Walls shows in the next Shaarg but, deserving of an advance mention though must be Laurie Manson and the Hjem herd at Walls.  Amongst other results they took Best Shetland Cow, Best Shetland Heifer, Best Shetland Bull, Shetland Champion, Reserve Shetland Champion and, with his Champion Shetland Cow; The Supreme Cattle Championship.  Certainly a day to remember!
---
 Cunningsburgh Show
The showing season is well upon us now, wishing all well who are showing Shetlands this year.  The SCHBS will have a stand at the Cunningsburgh show on Wednesday 9th August 2023, don't forget to call in if you are around on the day. 
---
A get together for members - September 2023 at Temple Newsam Home Farm, Leeds.
A get together and herd visit will be taking place at Temple Newsam Home Farm, Leeds, LS15 0AE on Saturday 2nd September 2023 at 10am to 1.30pm.  Please do join us at this long established rare breeds farm park, home to the Templeson herd of Shetland Cattle for nearly 40 years.  All members most welcome, potential members too if space allows. There will be a small charge to cover lunch.  For more information or to book please contact Ruth on 07880 584551 or ruthcdalton@gmail.com 
---
Semen store
The semen straw storage company have increased their prices for delivery of straws, and have added a handling fee per bull.  Delivery to zone 1 is now £60, and zone 2 £90 with the handling fee per bull as £6.  To see the table click on the Semen Store page.

---
 AGM 2023
The SCHBS AGM will be held at the Shetland Rural Centre (marts), Lerwick on MONDAY 12th JUNE 2023 at 6pm.  Followed by refreshments.  All members are welcome.
---
Semen Price Increase
The price of a straw has been £10 since the store opened in 2016 but from 1 May, 2022 the price will rise to £15 for SCHBS members and £30 for non-members.
---
Calf Registrations
Calf registrations closed for 2021 on 31 January. Thank you to everyone who got them in on time. In the 2021 year we registered 251 calves (249 in 2020), so numbers are stable. 
---
Mainland Contacts Network
In July, 2021, a network of Contacts was established for the benefit of all members of the SCHBS. These are experienced breeders of Shetland cattle who can assist members with any matters related to the breed or setting up with cattle for the first time. Please contact the Secretary for names and contact details.
---
AGM 2020 and 2021
Combined AGMs for 2020 and 2021 were held on Tuesday 15th June, 2021 at 7pm, in the Shetland Rural Centre, Staneyhill, Lerwick, Shetland ZE1 0NA. Social distancing regulations were followed but 19 people were in attendance and the meeting was lively and active. The outgoing President Pearl Young welcomed the incoming President Eleanor Arthur and Gary Keith and Jakob Eunson were elected as Vice Presidents. Five new members were welcomed - Ryan Johnson, Laurie Manson, Lynette Nicolson, Adam Duncan and Morgan Robertson. The enthusiasm and high energy level auger well for the future as we emerge from the pandemic restrictions and hopefully get back to normal.
---
MACDUFF 1890
Andrew Duff, Director of MacDuff 1890 in Wishaw, markets Shetland beef to high end butchers and caterers (they do not supply supermarkets) and is interested in sourcing Shetlands with Scottish ear tags. The animals need to be UTM (under thirty months) and on a Scottish passport. They need not be purebred but the sire must be a Shetland. They don't need to be farm-assured. This is a regular market and Andrew will take beasts at any time. 
If you have animals to sell in Scotland, male or female, this could be a market for you. Andrew's phone number is 07895 408672.
The business details are:
MACDUFF 1890,
185 Caledonian Road, Wishaw ML2 0HU.
Phone: 01698 355931 or 07895 408672
Email: Andrew@macduffbeef.co.uk
http://macduffbeef.co.uk/  
---
Shetland Cattle Online Show Summer 2020 - 5 September
The online show is over and all winners have been announced.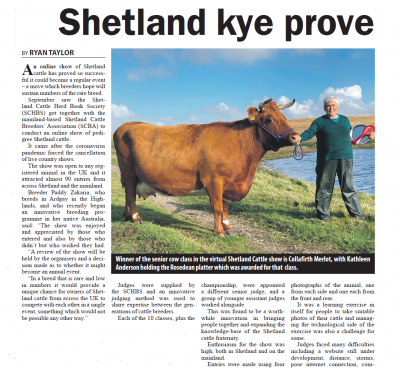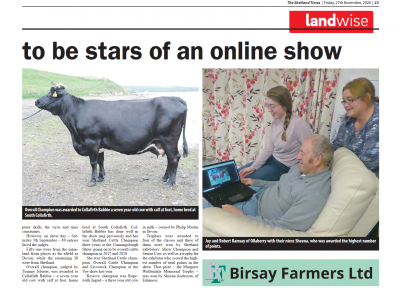 Show Report
This year, because of the COVID-19 virus, regular summer shows across the country had to be cancelled. Online shows popped up as an attempt to fill the gap and the Shetland Cattle Herd Book Society (SCHBS) and the Shetland Cattle Breeders Association (SCBA) on the mainland decided to get together to conduct an online show for Pedigree Shetland cattle, scheduled for September 5. The show was open to any registered animal in the UK and attracted 89 entries from across Shetland and the mainland.
Judges were supplied by the SCHBS and an innovative judging method was used to share expertise between the generations of cattle breeders in the Isles. Each of the 10 classes, plus the Championship, was appointed a different Senior Judge, and a group of younger Assistant Judges worked alongside them in the judging process. This was found to be a worthwhile innovation in bringing people together and expanding the knowledge base of the Shetland cattle fraternity.
Enthusiasm for the show was high, both in Shetland and on the mainland. Entries were made using four photographs of the animal, one from each side and one each from the front and rear. Taking suitable photos of their cattle was a learning exercise in itself for people and managing the technological side of the task was also a challenge. Judges faced many difficulties including a website still under development, distance, storms, poor internet connection, computer skills, the virus and time constraints. However, on show day, Saturday 5 September, 89 cattle faced the judges, comprised of 51 from the mainland from as far afield as Devon, and 38 from Shetland.
The Overall Champion prize, judged, by Tommy Isbister, from Trondra, was awarded to Collafirth Babbie a 7 year old cow with calf at foot, home bred at South Collafirth.  Reserve Champion was awarded to Ropewalk Ingrid owned by Philip Martin in Devon, a 3 year old cow in milk. Collafirth Babbie has done well in the show ring previously and has won Shetland Cattle Champion 3 years at the Cunningsburgh Show, going on to be overall cattle champion in 2017 and 2018. She was Shetland Cattle champion, Overall Cattle Champion and Livestock Champion at the Voe show last year.
Four trophies were awarded and three of them were won by Shetland exhibitors: Sheena Anderson won Show Champion, Kathleen Anderson won Senior Cow and Sheena Anderson won the SCBA Margaret Wolfendale Memorial Trophy for scoring the highest number of total points in the show.
The show was enjoyed and appreciated by those who entered and also by those who didn't but who wished they had. A review of the show will be held by the organisers and a decision made as to whether it might become an annual event. In a breed that is rare and low in numbers it would provide a unique chance for owners of Shetland cattle from across the UK to compete with each other in a single event, something which is not possible in the world of physical shows.
---
New Dun Bull on the Mainland
Geldron Faddom, a 3 year old dun bull from Shetland has arrived on the mainland. Faddom brings different dun genetics to the mainland and will help to return this original colour to the breed.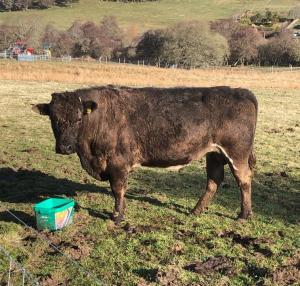 ---
The Amazing Benston Elsie
In March 2018 a post appeared here with a photo of a newborn calf, Rockytoon Grace, born to Benston Elsie who was then 19 years of age. Elsie, born in 1999, is still going strong and has now passed her 21st birthday. She is due to calve again this year. She had her first calf in 2000 and when she calves this year she will have been calving for 20 years. To add to her amazing feat she was accidentally in calf for the first time at the age of 4 months (Shetlands have very early fertility) and she calved at the very early age of 13 months. This first calf was a bull, Benston Foster, who went on to sire 20 calves. Elsie is a wonderful testament to the robustness and longevity of the breed.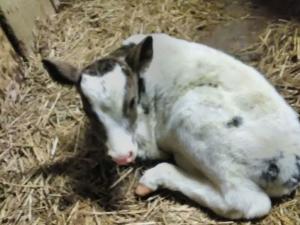 ---
Shetland Herd Dispersal
Update: Most of the cattle sold well, and went to homes in England and Scotland.
There is to be a large sale of Shetlands at Melton Mowbray, Leicestershire at the Traditional Native Breeds National Show and Sale, on 13/14 September with the dispersal of the "Manx" herd from the Isle of Man. The cattle should be available for viewing on the Friday with the sale on the Saturday. There are 23 animals listed. 4 cows ages 5 - 8, 4 homebred cows 3 years old, 2 homebred 2017 heifers, 4 homebred 2018 heifers, 3 homebred 2019 heifer calves and 6 homebred 2019 bull calves. There is also a Shetland bull, Lhiannag Coinneach, born 10/9/2014.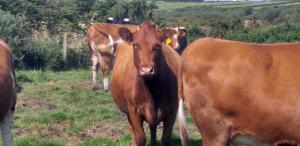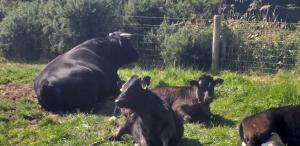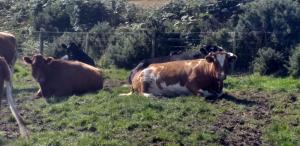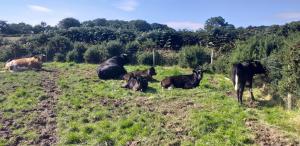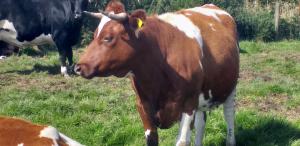 ---
Cunningsburgh Show, Shetland, 2019
The Cunningsburgh show was held on Wednesday, 14 August. Shetland Cattle Champion was Collafirth Babbie. Reserve Shetland Cattle Champion was Babbie's heifer calf, Collafirth Bunty, sired by Ocraquoy Haldor.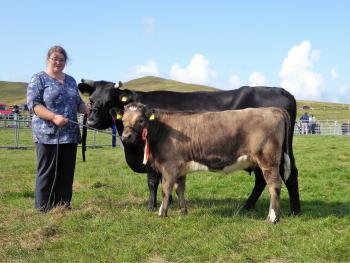 ---
Renwick Renoir
Sadly the grey bull Renwick Renoir was culled last week (end of July) as he had an inguinal hernia which had caused leaking into his scrotum. Renoir was a big bull with an exceptionally placid temperament, who left calves of a wide variety of colours. Fortunately semen was collected from him both for domestic use and export, and straws are available from the SCHBS Semen Store.
---
Shetland Calves Born on Culloden
The first Shetland calves in the new Shetland herd at Culloden Battlefield (see news item below) were born this month. A heifer calf and a bull calf were born to Fleet Moon and Ustaness Xena, both sired by Rogiavi Hamelin.
---
Facebook Page
To all those who visit our website, from many different places around the world, we would like to tell you that we have a Facebook page as well, called Shetland Cattle Herd Book Society. Please feel free to join. If you have an interest in the breed you may enjoy seeing the discussions on the page, or you may like to ask questions and interact with members .
---
Shetland Cattle on Culloden Battlefield
After several years of discussion and planning with the National Trust for Scotland, SCHBS is delighted to report that Shetland cattle are now (February, 2019) grazing the Culloden Battlefield just outside Inverness in the Highlands of Scotland. Two cows with calves from the Fleet herd belonging to Lucy Norval are the first of a planned NTS Shetland herd which will carry out conservation grazing on the battlefield and hopefully provide meat in the future. Culloden is a site of great historical significance and a major destination for tourists and those from abroad with Scottish ancestry. Already the cattle are attracting considerable attention and they will be seen by many people. NTS and SCHBS are looking forward to a bright future at Culloden with the new herd.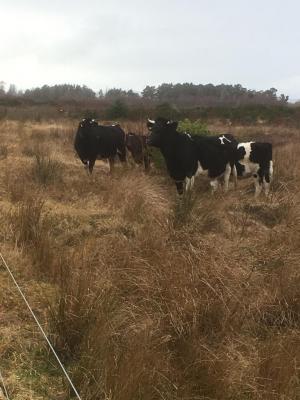 ---
Vale Trondra Arrow
Trondra Arrow, one of the bulls in the Semen Store is no longer with us (December, 2018). He was a fine black and white bull, bred in Shetland in the Trondra herd, and noted for his good conformation, excellent temperament and good genetics. Arrow lived a long life, being used by a number of herds and being kept until nearly 10 years old, much longer than the average bull normally lives. He left many progeny through which his legacy will continue. Straws are available through the Semen Store, where photos can also be seen. 
---
Another Semen Collection in Australia
Semen was collected from Shetland bull Zetralia Atticus in Australia on 2 December, 2018. Atticus was born in 2015 from an embryo created in Scotland. Semen from 10 Shetland bulls is now safely in storage in Australia for use in expanding the Zetralia herd.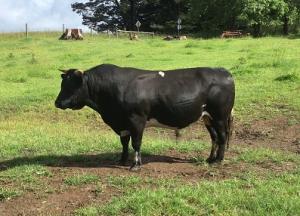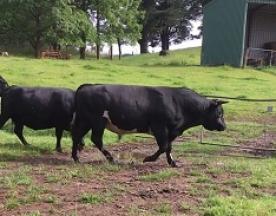 ---
Breaking News - First Shetlands Born in USA
The first Shetland calf in the USA, born from embryos created in the UK, was born in Texas on 28 August, 2018. It was a red bull and was quickly followed by two red heifer calves, making a small herd of three Shetlands as the foundation of the breed in the USA. Although selective breeding practices last century have resulted in the majority of Shetlands in the UK being black and white, the three calves in the USA are red, due to the parentage of the embryos. It should be noted that this is not a typical colour spread. A representative herd could include black, red, dun, brindle, grey or white, and any of these colours could be solid or with white. See the Gallery for examples of the range of colours in the breed.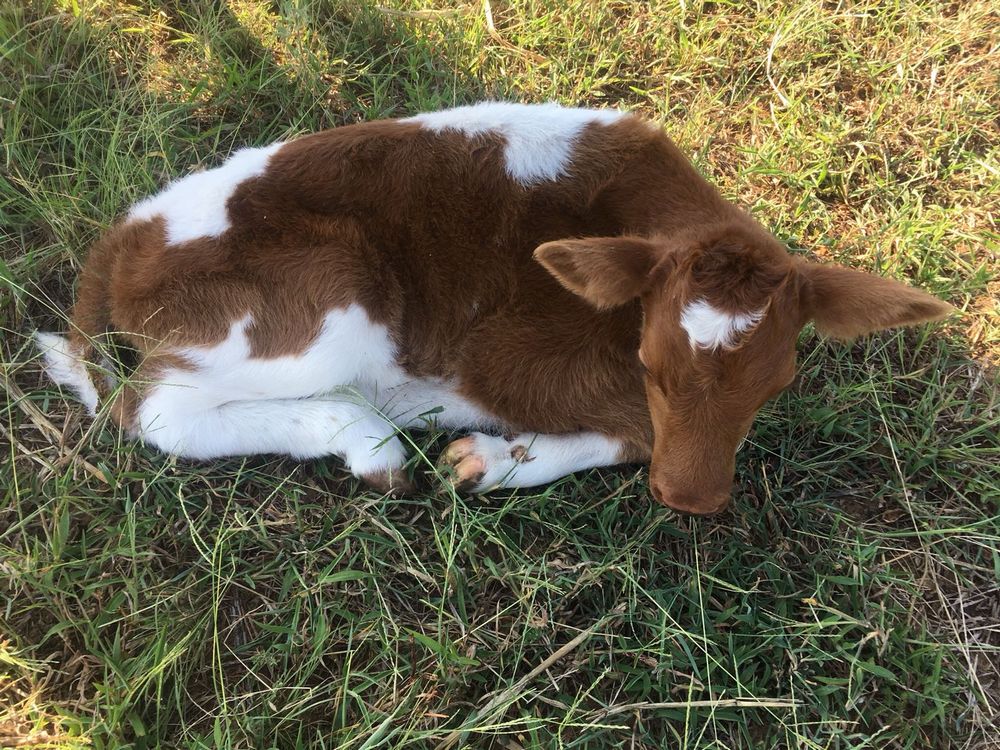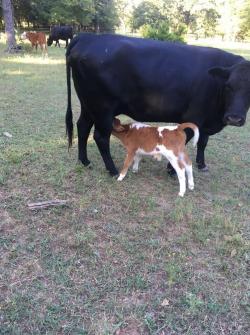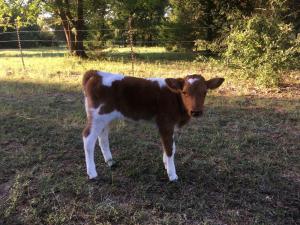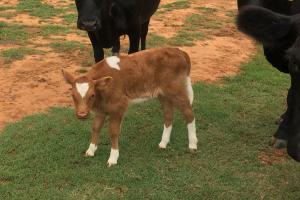 ---
Zetralia Semen Collection
Semen has just been collected (September, 2018) from two of the Shetland bulls in Australia, born from embryos. They are Zetralia Apollo Bay and Zetralia Ardgay. These bulls are part of the small herd of Shetlands started in Australia in 2015 as the only off-shore gene pool for the breed (see News item below). While they were sired by the same bull, making them half-brothers, they each represent individual genetics through their dams who are widely separated, genetically. By doing this semen collection these genetics are secured and at any point in the future can be put back into the gene pool to keep it in balance. The Shetland breed has a small gene pool so the key is to see that all the genetics are always in use, and in balance. Building up a semen store in Australia will also assist with the growth of the herd once more breeders are keeping them.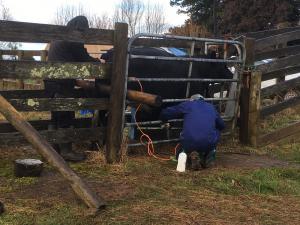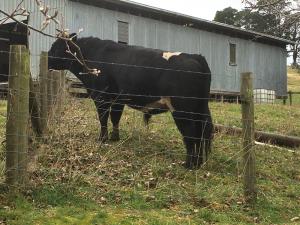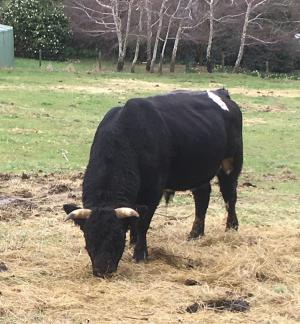 ---
Scotland's BVD Eradication Scheme
The BVD Advisory Group and Scottish Government have published some short videos to provide advice and information to cattle keepers about Scotland's BVD eradication scheme.  They are on a Youtube playlist for ease of access, and can be found at this link: https://www.youtube.com/playlist?list=PLnJEBZSMkbKpWs8TIJhxWznuAPSHe97fo  You can watch the short films in sequence or individually.  As new videos and infographics are produced, the Scottish BVD Advisory Group will add them to the playlist.  
---
Another 19 year old gives birth
Benston Elsie, born 8 March, 1999, calved a heifer calf on 15 January, 2018, in Shetland, to The Point Jacobite.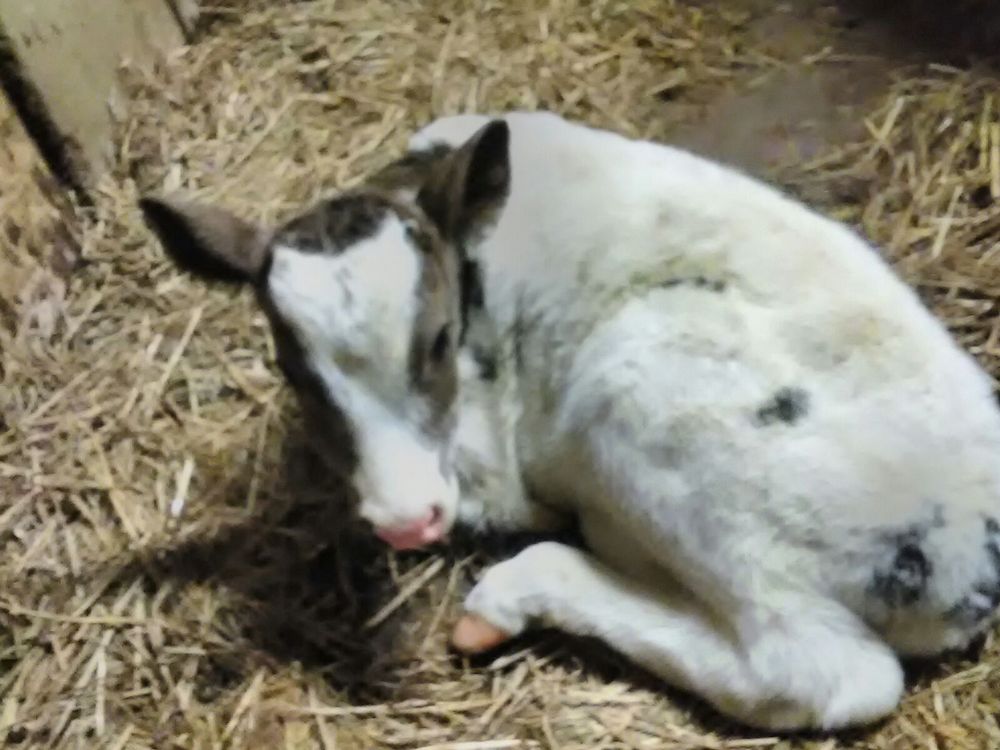 ---
Another Bull!
The third Shetland calf in the Australian Zetralia herd was born in Gippsland, Victoria, on 7th January, 2018, to heifer Zetralia Alamootie. It was a bull. Alamootie displays her fine udder, a strong feature of the Shetland breed.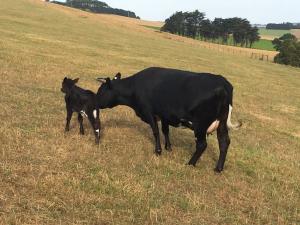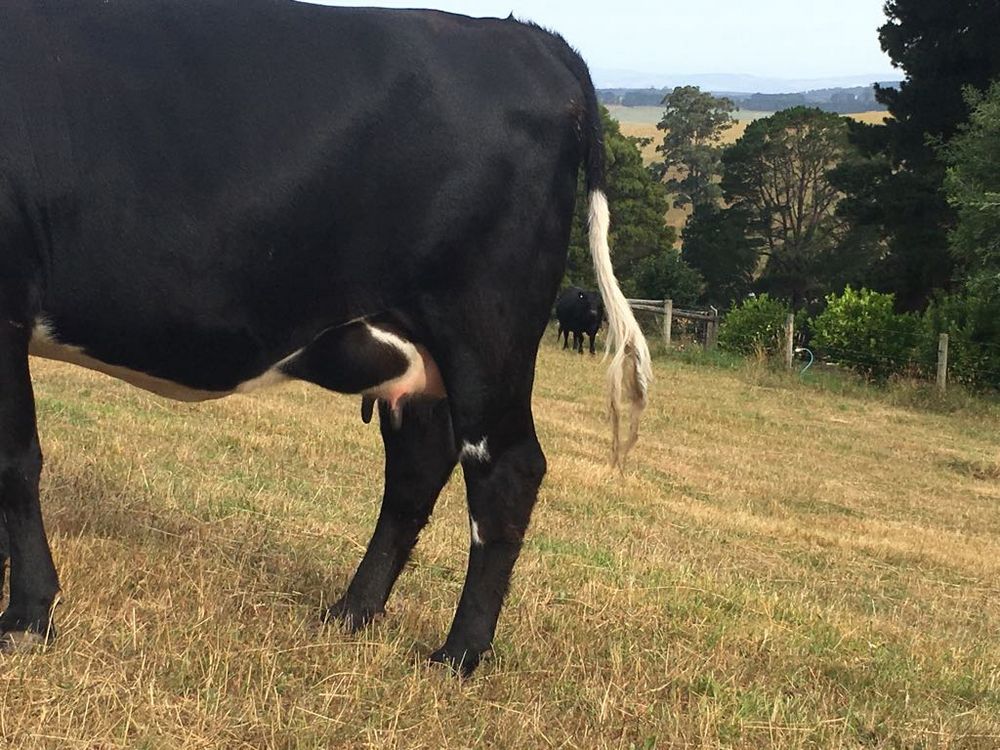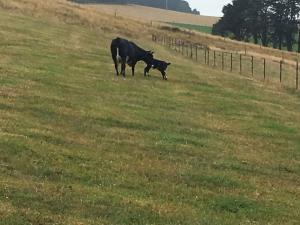 ---
Vale Collafirth Rowan
23 March 1996  -  18 December 2017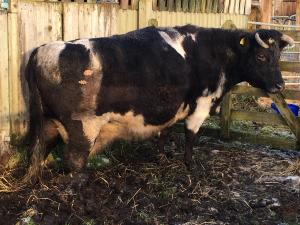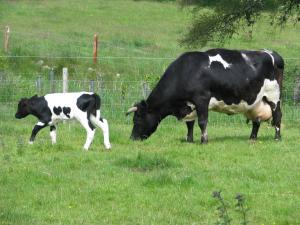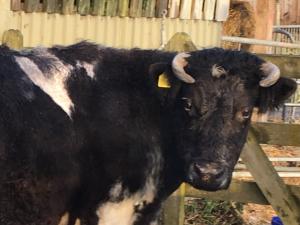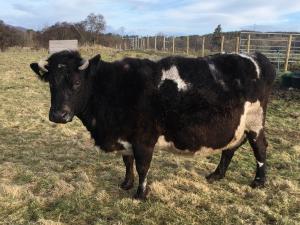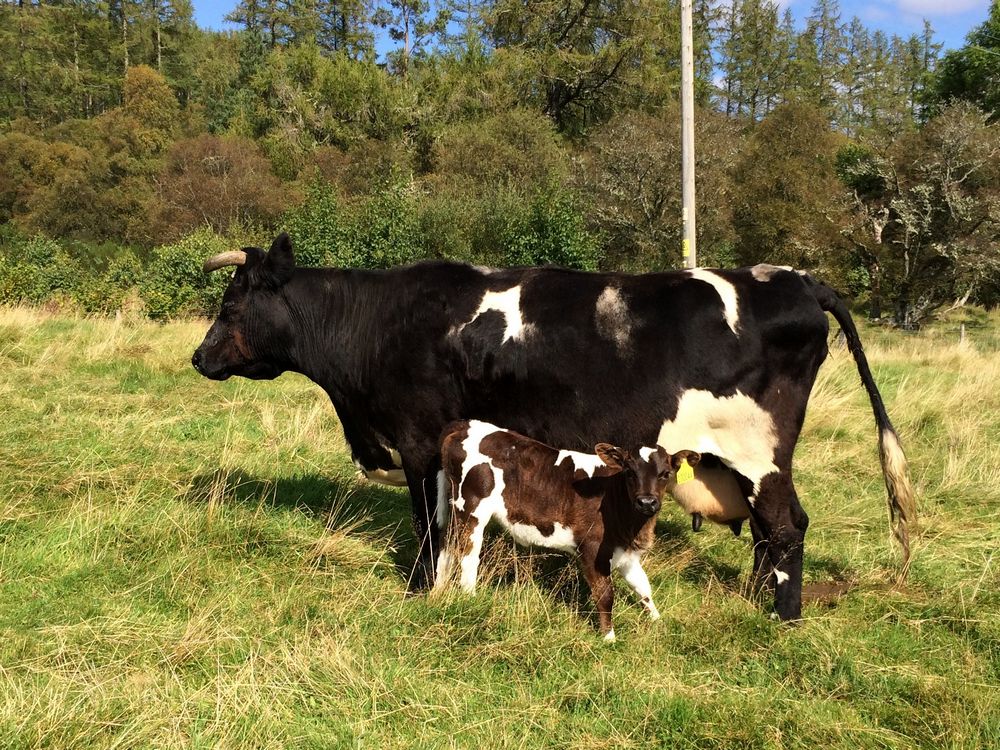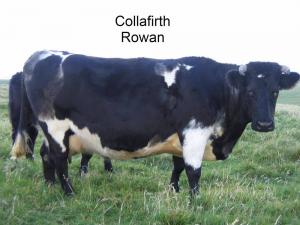 ---
Another Bull for Australia and USA
Semen from three-year-old Shetland bull Renwick Renoir has finally been cleared for export, after months of delay with his final blood tests. His semen is now ready to ship to Australia, Zimbabwe and the USA. Straws are available from the Semen Store, both for domestic use and export. He contributes frame, length, colour (grey) and exceptional temperament.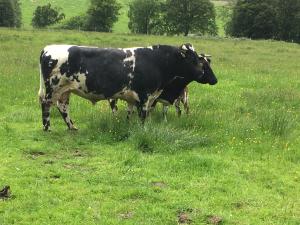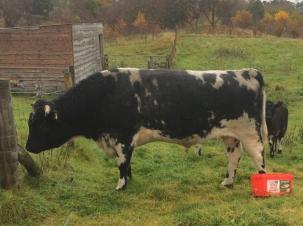 ---
First All-Shetland Births in Australia
Two calves were born in Australia in September, 2017, from Shetland sires and Shetland dams. They are the first calves to be born in Australia from two Shetland parents, joined naturally. In true Shetland style the births were fast, and despite great anticipation and vigilant observation no-one managed to see either birth. Both calves were up and sucking quickly and both heifer mothers, Zetralia Avelyn and Zetralia Aith, were relaxed and calm and allowed well-wishers to pat and handle their calves immediately. See below for more information about the Australian Zetralia herd.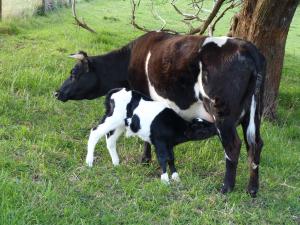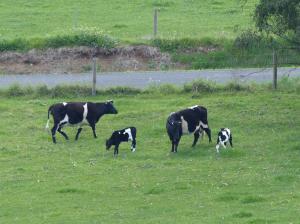 ---
Shetland Herd in Australia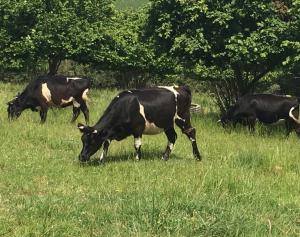 Seven Shetland calves were born in Australia in early 2015 from embryos created in Scotland in 2013 and implanted in Ayrshire heifer surrogates in Australia in 2014. There are four heifers and three bulls. Photos of them can be seen in the Gallery. These are the only Shetland cattle outside the UK. The herd was established by Paddy Zakaria, a member of the SCHBS Management Committee, as an off-shore gene pool to secure the breed in the event of the loss of genetics in the UK. Shetland cattle have been taken out of the UK before, notably a breeding group taken to the Falkland Islands after the war, but there was no systematic plan to create a viable herd at that time and no members of this group have survived. Semen has been collected and shipped to Australia to ensure the diversity and viability of the new herd and the genetics now in Australia represent 93% of all the ancestors and founders of the breed. Additional semen collections will further improve the balance of the new gene pool. Zetralia Avelyn, mother of the first calf, can be seen back left in the photo, at 18 months old and Zetralia Aith, mother of the second calf, is in the foreground.
---
Dun Bull From Shetland
Dun bull Ocraquoy Haldor, 3.5 years old, has been sent from Shetland for a season of breeding on the mainland. The dun colour is still rare in Shetland cattle. Haldor is a fine example and has a very placid temperament. His dam, Hestataing Amber, was a well-known prize winner in Shetland in her younger days and is still breeding successfully at the age of 15. A dun heifer calf of Haldor's appears below.
---
Another 19 Year Old Calves Successfully
Ustaness Gunna, 19 years old in April 2017, gave birth to a lively bull calf on 17 August, 2017. Gunna arrived from Shetland into the Fleet herd in Rogart, Sutherland, at the age of 17, for a well-deserved retirement in slightly gentler climes than her homeland. She has, however, showed no inclination to slow down and has produced two calves since, first a heifer, Fleet Moon, and now a bull, Fleet Climper. She is sound and healthy in all respects and is expected to calve again in 2018.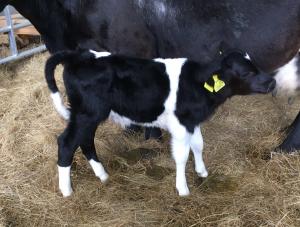 ---
Cunningsburgh Show, Shetland, 2017
Best Calf - Collafirth Hamish, sire Ocraquoy Haldor, dam Collafirth Babbie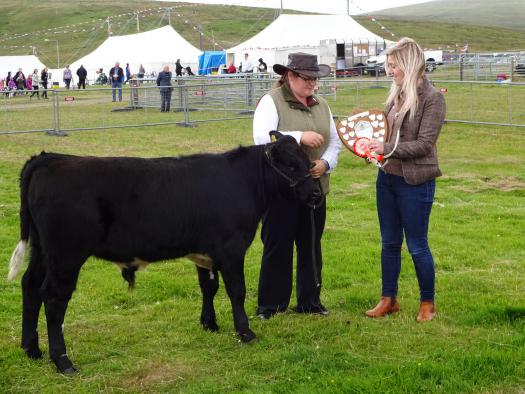 Supreme Cattle Champion - Collafirth Babbie
---
Shetland Beef Biltong Award
Great Taste, organised by the Guild of Fine Food to encourage and mentor artisan food producers, have announced their 2017 award winners, after a judging process lasting from March till July and involving 500 judges from all over the world. These awards are the "Oscars" of the food world and the "epicurean equivalent of the Booker Prize". Paul and Becky Newman keep the Newmans herd of Shetland cattle in the hills above Aberfeldy in Perthshire and run Errichel B&B and Thyme at Errichel Restaurant. This year they won several Great Taste awards for their produce and amongst these was the fine achievement of Two Stars for their Shetland Beef Biltong.
In May Paul and Becky also won the Scottish Land and Estates Award for Agri-Tourism. Their Shetland herd, which they use for milk as well as beef, is an important part of their business and creates interest amongst visitors on guided walks around their spectacular farm. Congratulations to all at Errichel for an excellent achievement and for promoting Shetland cattle!
---
Glachbeg Casper
Glachbeg Casper, a white bull calf, was born on 7 May. He has black ear tips, black eye surrounds and black horn buds. The photos show him with dirt on his face, at six weeks old. White Shetlands are nowadays unusual although in olden times they were common. His great grandsire, St Trinians Ghost, was another white bull. He can be seen in the Bulls album in the Gallery. Casper's sire is Renwick Renoir, seen in the news item above.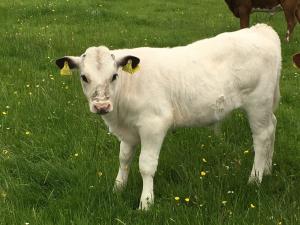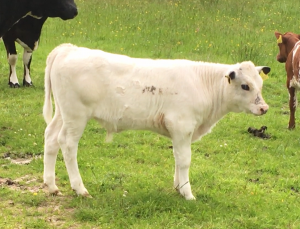 ---
Shetland Genetics to Zimbabwe
A shipment of Shetland semen is currently planned for Zimbabwe, the relevant import permissions having been granted by the Zimbabwean authorities. This means there will be Shetland genetics in three continents - Africa, Australia and North America. Cattle were born in Australia, from embryos, in 2015 and Shetland embryos have been implanted in surrogate cows in the USA, with calves expected in September 2018. The semen for Zimbabwe will be shipped to beef farmer, Mr Canaan Gwete, who is looking to bring specific Shetland attributes to his herd of mainly Brahman cattle. He is hoping that the Shetland genetics will improve the milkiness, temperament and hardiness of his herd, and will also moderate the size. Photos below show some of Canaan's mixed herd and also his Brahman bull, grazing his farm west of Mutare in Zimbabwe. Watch for updates to this exciting venture.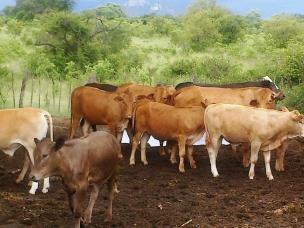 ---
EVENTS